News: Events
February 18, 2019
category: Events
Scitech Demonstrating the Luxendo MuVi SPIM Light-Sheet Microscope at LMA 2019, 5-8 March 2019
Scitech is proud to be supporting the 2019 Light Microscopy Australia Conference (LMA) in Brisbane at the Translational Research Institute from the 6-8 March 2019.
LMA 2019 will bring together the local microscopy community to explore the latest innovations in microscopy and microscopy-based research applications.
Scitech will be demonstrating the Luxendo MuVi SPIM Light-Sheet Microscope on Tuesday the 5th of March at the Instrument Extravaganza Workshop, which is taking place at the Institute of Molecular Bioscience, University of Queensland.
November 1, 2018
category: Events
Scitech's exbiting at the 21st Australasian Fluid Mechanics Conference 2018 ( Dec 10-13 )
Scitech is excited to announce that they'll be exhibiting at the upcoming 21st Australasian Fluid Mechanics Conference (AFMC) 2018 at the Adelaide Convention Centre between the 10th – 13th of December 2018 .The conference is organised in collaboration with the Australasian Fluid Mechanics Society and will bring together an international group of scientists, engineers and educators with common interests in fluid mechanics. SciTech offers a wide range of imaging solutions catering to field of fluid mechanics including EMCCD, sCMOS, CMOS, CCD and ICCD camera systems. SciTech also distributes high-speed imaging cameras that are capable of operating up to a million frames per second. Furthermore, Scitech will be presenting the latest developments from PCO:
Dicam C1 CCD Camera, which incorporates cutting-edge image intensifier technology
pco.edge 4.2 bi – cooled back-illuminated 16 bit sCMOS camera
pco.Panda – compact 4.2MP sCMOS camera
November 1, 2018
category: Events
Scitech's joining the TissueGnostics' booth at the upcoming ASI 2018 Conference ( Dec 2-6 )
You are welcome join us on the TissueGnostics(TG) booth at the Annual scientific meeting of the Australasian Society of Immunology conference in Perth from the 2nd to the 6th of December.
TissueGnostics specialises in the production of integrated solutions for high content and/or high throughput scanning and analysis of a range of different samples in the fields of biomedical science, veterinary science, life science and technical microscopy. TGs scanning systems are based on versatile microscopy systems (with or without image analysis capabilities), and their cutting-edge Contextual Tissue Cytometry analysis software is fully stand-alone capable and supports a wide variety of scanner image formats as well as digital images taken with any microscope. Founded and headquartered in Austria, TG now has subsidiaries in the EU, the USA and China, and their client base extends to 28 different countries worldwide
October 24, 2018
category: Events
Scitech exhibiting at ANS 2018
Scitech will be exhibiting at ANS 2018
The Annual Scientific Meeting of the Australasian Neuroscience Society is one of the largest annual biomedical conferences held in the Australasian region. It will be taking place between the 3rd-6th of December at the Brisbane Convention and Exhibition Centre, Queensland.
ANS 2018 will feature presentations from a variety of internationally renowned experts in the field of neuroscience. Scitech will be showcasing a number of the latest and most innovative products and tools for neuroscience research.
Come visit us at booth 18!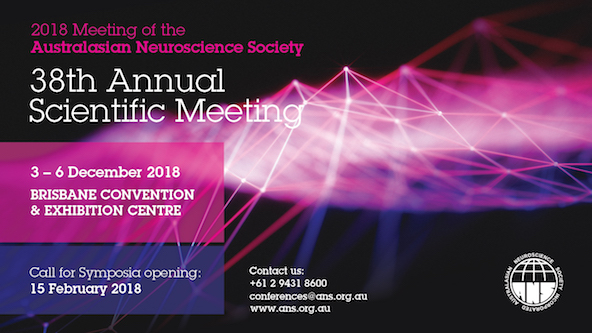 September 21, 2017
category: Events
ANS 2017 Conference
ANS 2017 Conference
Scitech will be exhibiting at ANS 2017!
The 37th Annual Meeting of the Australasian Neuroscience Society is being held at the International Convention Centre in Sydney, on the 3rd – 6th December 2017 and gives you the opportunity to attend and witness the latest national and international neuroscience research presentations.
Scitech is proud to be exhibiting and showcasing some of the latest key product developments in Neuroscience at the ANS 2017 Conference. Scitech's trade display gives neuroscience researchers and a large number of students a wonderful opportunity to see the latest equipment and services Scitech has on offer.
Scitech's friendly representatives look forward to speaking with you at Booth 11.
July 21, 2017
category: Events
JPK AFM User Training Course September 14th-15th 2017
All JPK users are warmly invited to attend the hands-on training course at the JPK Training Center in Berlin (Germany) from September 14th to 15th 2017.
Scope of the Course
The course focuses on the principles of imaging and force spectroscopy applications at the interface of biology, physics and material sciences in combination with simultaneous optical microscopy. JPK offers all JPK users the opportunity tupdate their skills and tlearn about additional modes within the JPK AFM product family.
The topics covered include:
– AFM imaging
Easy and robust image acquisition
Imaging in different modes: Contact, AC and Quantitative Imaging
Imaging in different environments: Air, Liquid, Temperature controlled environment
Fast AFM: Imaging at higher temporal resolution
Electrical AFM modes
– Force Spectroscopy
Cell mechanics
Force Spectroscopy & data analysis
– Combining high performance optics and AFM
Combination of transmitted light microscopy (bright-field, phase-contrast, DIC) with AFM
Combining super resolution microscopy techniques (STED) with AFM
Software integration of optical and AFM imaging with DirectOverlay™
December 2, 2016
category: Events
Tissue Clearing and Light-Sheet Microscopy Seminars & Workshop
Scitech attending the Tissue Clearing and Light-Sheet Microscopy Seminars & Workshop.
Location: Queensland Brain Institute
Dates: 8-9th December, 2016.
For further details please visit: http://web.qbi.uq.edu.au/microscopy/tissue-clearing-and-light-sheet-microscopy-seminars-workshop/
Scitech will be demonstrating the ASI diSPIM ( Dual Inverted Selective Plane Illumination Microscopy ) system at the workshop.